Frederic Lyman has always dreamed of visiting Hawaii, the most exotic state in the United States.
Frederic has spent much of his life traveling abroad and exploring all the beauty the world has to offer. But Frederic also wants to experience what his own country has to offer and is planning on visiting Hawaii in the near future. Frederic wrote a blog titled "Top 5 Reasons You Should Visit The Aloha State" in which he details how the beautiful weather and beaches combined with the culture and the people make it one of the best places in the world to vacation.
As a hiking enthusiast Frederic Lyman has been anticipating hiking the trails in Hawaii. The natural beauties one can find on the trails in Hawaii include waterfalls, beautiful coastlines, and  great views from mountain tops. Frederic had planned on climbing the Manoa Falls trail, the Diamond Head Crater Summit Trail, and the Kalalau Trail.
Needless to say, Frederic Lyman is saddened by the recent eruptions from the Kilauea volcano taking place in Hawaii. This Eruption happened on May 3rd 2018 and was followed by a 6.9 magnitude earthquake the following day. This has caused for a tremendous amount of damage in the area surrounding Kilauea which includes the Hawaiian subdivision known as Vacationland. This subdivision has been impacted heavily by the Lava Flow, roads have been blocked and electricity and cell phone lines have been damaged, cutting off Vacationland from the rest of the island.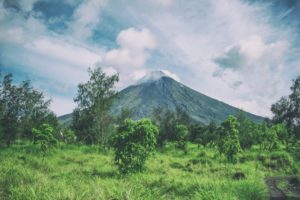 Frederic Lyman immediately knew he wanted to help those affected by this tragedy. He was happy to find that he was not the only person interested in providing aid. MLB Player for the St. Louis Cardinals Kolten Wong had grown up just a few miles from this disaster. Kolten has set up a GoFundMe page and created a short video to help raise money for the victims. In just 2 months time, Kolten has raised over $75,000 towards the relief effort before focusing their efforts to the organization known as "Heros For Hawaii".
Heroes For Hawaii partners with professional athletes to try and promote daily acts of kindness on the Island. Their tagline is, "every act of giving is a heroic act" and Frederic Lyman agrees, if everyone gave a little of their time and effort to others the world would be a better place.